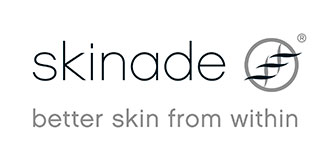 30 one-a-day sachets £110
Skin is the largest organ of the body and acts as a natural, waterproof insulation protecting us from damaging sunlight and other elements that cause accelerated ageing.
Collagen is a critical part of the structure of the dermis, and gives our skin its plumpness.
As we age, we lose collagen at the rate of 1.5% per year from our early 20s. This loss results in wrinkles, fine lines, dry, blemished and thinning skin.

Collagen Boost
Skinade aims to to re-build the collagen matrix in your skin, therefore combats the signs of ageing by reducing oxidative stress. It increases moisture and hydration by increasing natural hyaluronic acid production within the dermal layer of the skin.

Skincare From Within
Skinade delivers essential micronutrients in a peach flavoured bio-available, high body absorbency 15ml liquid sachet which is perfect for people on the go! It's dairy, lactose, gluten & alcohol free.

The Science
Skinade harnesses the class-leading, 2kDal patented hydrolysed marine collagen peptides to fire up our natural collagen production to increase skin thickness, making lines less visible. The HAS2 receptors in the dermis are also triggered which promotes the production of hyaluronic acid resulting in improved skin hydration.

Results
After completing a 30 day course of Skinade consumers have noted increased skin hydration and suppleness. A reduction in appearance of fine lines and wrinkles along with healthier looking hair and nails.
Advanced Therapeutic Solutions
| | |
| --- | --- |
| | Skinade aims to restore your skin's youthful appearance, improves tone, texture, hydration, smooths furrow lines and promotes better skin suppleness. |
| | Within a Skin Consultation at the Mayfair Practice we can assess your skin and create a responsive skincare regime to tackle signs of ageing, damage and promote skin health. |
| | Book your 30 minute Skin Consultation and let the journey begin |
| | £50 deposit required to secure your appointment, fully redeemable against any treatment or skincare product. |
/skin-care/cellpro/
/skin-care/zo-medical/
Where to Find Us
We are discreetly located in Mayfair, with Bond Street and Marble Arch Tube stations only a few minutes walk. Nestled between Selfridges and Grosvenor Square, we are neighbours to Harley Street's Private Medical District.
Opening Times
Monday 10:00 - 18:00
Tuesday 10:00 - 18:00
Wednesday 10:00 - 18:00
Thursday 10:00 - 18:00
Friday 10:00 - 18:00
Saturday Closed
Sunday Closed

Book an Appointment
Please reach out by phone or email and we look forward to welcoming you to the clinic to assist in any medical or aesthetic need you may have.