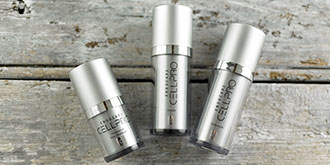 It does so with the world's only clinically proven stem cell activator, CAF BioAction, which works deep in the skin at the source of replenishment; the stem cell. By activating stem cells, CELLPRO stimulates the generation of new skin cells, collagen, elastin and hyaluronic acid to restore your skin's natural radiance, and leave you with a smoother, healthier, glowing complexion.

Therapeutic
CELLPRO contains an advanced and powerful Vitamin A complex, which increases cell turnover to renew the skins surface, it's delivered in such a way that you get all the regenerating benefits, while being gentle on your skin.

Science
The unique formula is derived from the egg of the scientific snail, Cryptomphalus aspersa, it works to activate stem cells stimulating the production of new fibroblasts. Fibroblasts are the cells in your skin that produce collagen, elastin and hyaluronic acid – all key elements in skin regeneration.

Daily Skincare
There are just 3 products in the daily CELLPRO regime, a day cream, a night cream and a product created specifically for around the delicate eye area.  All work in unison to help tighten, brighten, smooth and reduce puffiness. Simple for our hectic lifestyles.

Anti-ageing
CELLPRO also contains a patented hydrogel, Wharton Gel Complex, rich in hyaluronic acid and growth factors is clinically proven to further stimulate the production of collagen, elastin and hyaluronic acid, for firmer, plumper skin
Advanced Therapeutic Solutions
| | |
| --- | --- |
| | CELLPRO, powered by nature, is the only skincare product in the world that's clinically proven to activate your stem cells – the source of naturally beautiful skin. |
| | Within a Skin Consultation at the Mayfair Practice we can assess your skin and create a responsive skincare regime to tackle signs of ageing, damage and promote skin health. |
| | Book your 30 minute Skin Consultation and let the journey begin |
| | £50 deposit required to secure your appointment, fully redeemable against any treatment or skincare product. |
/skin-care/colorescience/
/skin-care/skinade/
Where to Find Us
We are discreetly located in Mayfair, with Bond Street and Marble Arch Tube stations only a few minutes walk. Nestled between Selfridges and Grosvenor Square, we are neighbours to Harley Street's Private Medical District.
Opening Times
Monday 10:00 - 18:00
Tuesday 10:00 - 18:00
Wednesday 10:00 - 18:00
Thursday 10:00 - 18:00
Friday 10:00 - 18:00
Saturday Closed
Sunday Closed

Book an Appointment
Please reach out by phone or email and we look forward to welcoming you to the clinic to assist in any medical or aesthetic need you may have.