Turn Back the Years of Tired Eyes
I am always keen to experience treatments before bringing them into my practice, firstly they must deliver in terms of clinical studies and results along with meeting the rigorous criteria of efficacy and safety.  Nano Plasma by Felc did just that so I had a treatment myself, given I have excessive and very droopy eyelid skin I was keen to see what results could be achieved. 
As we age eyelids can wrinkle and droop leaving the eyes looking tired.  The delicate skin around the eye can also lose its laxity, and genetically we can simply be prone to having excessive skin in the area too. 
Over time I have experienced quite excessive droopy eyelid skin, however more recently the weight of the skin folding over my eyes has become a nuisance, this lead me to find an answer to improve this, which up until recent years could only be achieved with surgical intervention.   
After extensive research I chose the patented new technology of Nano Plasma by Felc to lift and tighten excessive or drooping eye skin, known as non-surgical blepharoplasty.  I was convinced by the rigorous clinical studies and results along with the high standards of safety and efficacy. 
In essence the FELC device uses the fourth state of matter, Plasma, to contract and tighten the skin around the eye area. 
This beam of plasma energy works by sublimation, which means that the skin cells change from a solid to a gas without ever passing through a liquid phase. This allows for safe and controlled skin damage to create tightening and retraction of the skin tissues. A healing response is then triggered which then causes new collagen formation in the skin around the eye being treated. 
Plasma is formed through the ionisation of atmospheric gasses to stimulate instant contraction and tightening of skin fibres.  The technology is reliable, easy to implement and safe for all people of all ages. 
Before my eyelids were severely droopy as seen in the picture below.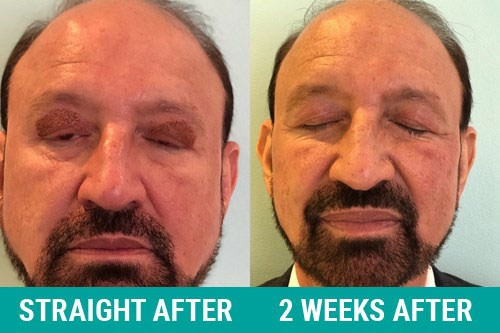 Immediately after the treatment a carbon crust will form over the treated area, this is completely normal as they are part of the rejuvenating and healing process.  The next picture shows two weeks post treatment, the crusting had healed and results were already noticeable.   
After 4 weeks I appreciated a remarkable result after just one treatment, and given the severity of my droopiness I knew I would be a candidate for at least two treatments. However I am very impressed with the results and it has certainly relieved the annoying skin hanging over my eyes in totality.  I am very pleased as the procedure is simple, the science reliable and most of all no risks associated with surgery or lasers to achieve an aesthetically pleasing result.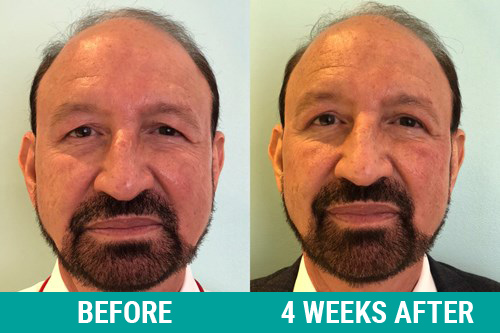 Where to Find Us
We are discreetly located in Mayfair, with Bond Street and Marble Arch Tube stations only a few minutes walk. Nestled between Selfridges and Grosvenor Square, we are neighbours to Harley Street's Private Medical District.
Opening Times
Monday 10:00 - 18:00
Tuesday 10:00 - 18:00
Wednesday 10:00 - 18:00
Thursday 10:00 - 18:00
Friday 10:00 - 18:00
Saturday Closed
Sunday Closed

Book an Appointment
Please reach out by phone or email and we look forward to welcoming you to the clinic to assist in any medical or aesthetic need you may have.