This Is The Product Lara Worthington Swears By To Reduce Pigmentation
Pigmentation is the seemingly indomitable force in our skin narrative. Just the mere mention of the P-word (or H-word, for Hyper-pigmentation), and words like "chronic", "untreatable" and "forever" come up. But according to beauty mogul and mother of two Lara Worthington, there is something that can aid pigmentation.
Opening up the social flood gates and enabling 'Instagram Questions', Worthington received a slew of questions from eager fans.
From her typical day on a plate – her and Sam watched Forks Over Knives and they've been Pescatarian ever since, to whether she scrunches or folds – to which she responded a simple, "LOL", every inch of Lara Worthingon's life was quizzed. And considering she is somewhat of a beauty authority now (the founder and director of The Base by Lara Bingle), Worthington obviously received questions about her beauty routine. One such question (and more importantly answer) which excited us was one regarding pigmentation. It read as follows:
"Any tips for reducing uneven pigmentation even though I wear SPF?"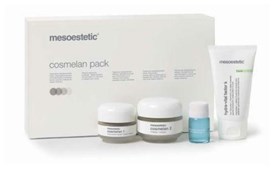 For Worthington, it all came down to one product (and some time spent indoors) to cure her pregnancy-induced pigmentation.
"I got pigmentation SO bad both pregnancies (you'll know if I'm pregnant again). I used this – and swear by it: Mesoestetic Dermamelan Treatment Cream (best to stay inside for 7 days lol)."
Like music to the ears of many (myself included), the cream is part of the Mesoestetic Dermamelan product line, which reduces and eliminates pigmented, or melanin, blemishes. If it worked for Lara's aggressive case of pregnancy-pigment, sign us up. And if her clear, spot-free complexion is anything to go by, no, she's not pregnant again.
Read the full article here. Photo owned by Vogue Australia.
Where to Find Us
We are discreetly located in Mayfair, with Bond Street and Marble Arch Tube stations only a few minutes walk. Nestled between Selfridges and Grosvenor Square, we are neighbours to Harley Street's Private Medical District.
Opening Times
Monday 10:00 - 18:00
Tuesday 10:00 - 18:00
Wednesday 10:00 - 18:00
Thursday 10:00 - 18:00
Friday 10:00 - 18:00
Saturday Closed
Sunday Closed

Book an Appointment
Please reach out by phone or email and we look forward to welcoming you to the clinic to assist in any medical or aesthetic need you may have.