Mole Removal - What is the Radiowave Treatment?
Skin tags, moles, lumps can make us feel paranoid and self-conscious. Even though they're not something that we need to always worry about, they can often be the bug-bearer we would rather remove.
Often, people think removing a mole or something similar will cost a huge amount of money and a relative amount of pain. That's not the case. Our highly skilled doctors are trained in radio wave technology which safely removes moles, lumps, skin tags and more, totally pain free.
We spoke with one of our clients who had Radiowave treatment to remove a small lump on the back of her ear.
Don't just take our word for it, hear what Hayley has to say...
"I had a small lump on the back of my ear that had really played on my mind for years. I had this lump from a bee sting when I was little, and I was always very self-conscious about it when I was wearing my hair up or behind my ears.
It was a fairly small lump, something probably not many people would notice unless I pointed it out, but I knew it was there, and that was bad enough for me. I think if something makes you self-conscious and there's the opportunity to be able to do something about it, then why not?!
I first met with Dr.Masani, and I have to say that he is the most professional, friendly and diligent doctor I have ever had the pleasure of meeting. I was slightly nervous with it being a 'minor procedure' and I had no idea what it was going to feel like.
Dr.Masani and I went through a general health check up and then discussed the lump at hand. He thoroughly inspected it to make sure it would be ok to get rid of, and asked me questions around why I wanted it done. It's very clear that he cares a lot about his patients and they really are the forefront of what he does. After applying numbing cream, we waited around ten minutes before getting on with the procedure.
I literally couldn't feel a thing!
After watching a small video back, I'm surprised I felt nothing and it's quite a scary thought burning away skin. It was honestly PAINLESS. The only thing I did notice was a horrible smell (of burning skin), but knowing I was soon going to be lump-free, and the fact there was no pain at all, I didn't mind.
After care
"Dr.Masani was very clear about the aftercare. We kept it covered up for around a week, and he gave me cream that I needed to apply to help it heal and keep it clean."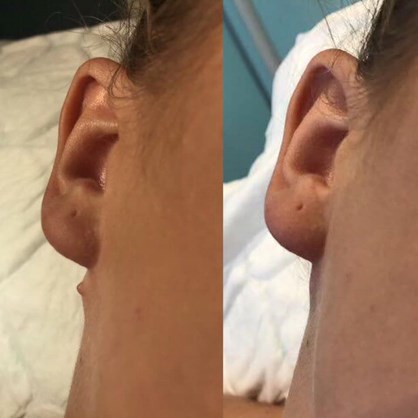 Radiowave, also known as Radiosurgery is the most effective non-surgical treatment for the safe removal of:
Moles

Skin-tags

Some birthmarks

Thread and Spider veins
Radiowave or Radiosurgery is an electromagnetic wave, so as the Radiowave is introduced to the skin to remove the mole, it performs a circuit through the skin and safely exits the body via a small antenna that is placed in contact with your skin. The treatment is completely painless and sensation free. As the platinum wire that is charged with Radiowaves is cold to the touch it does not heat or burn the mole or skin tissue. This allows the skin mole to be removed in its entirety allowing for laboratory analysis if clinically required.
Where to Find Us
We are discreetly located in Mayfair, with Bond Street and Marble Arch Tube stations only a few minutes walk. Nestled between Selfridges and Grosvenor Square, we are neighbours to Harley Street's Private Medical District.
Opening Times
Monday 10:00 - 18:00
Tuesday 10:00 - 18:00
Wednesday 10:00 - 18:00
Thursday 10:00 - 18:00
Friday 10:00 - 18:00
Saturday Closed
Sunday Closed

Book an Appointment
Please reach out by phone or email and we look forward to welcoming you to the clinic to assist in any medical or aesthetic need you may have.