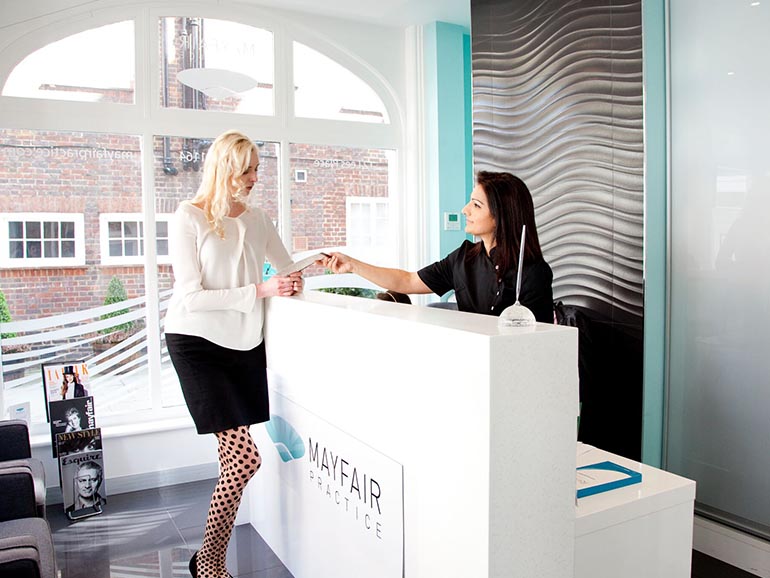 Genine is our "front of house" who lends a friendly and welcoming face to the Mayfair Practice.
Efficiently and effectively organising every aspect of patient care, Genine is available to assist any of our patients with appointments, repeat prescriptions and general enquiries.
Her friendly personality and high respect of patient confidentiality and discretion makes her the very essence of the Mayfair team.
With specific knowledge in aesthetic treatments and skincare, Genine can offer a range of sound advice and information.
/about-us/meet-the-team/jennifer/
/about-us/meet-the-team/dr-masani-mbbs-ostj/
Where to Find Us
We are discreetly located in Mayfair, with Bond Street and Marble Arch Tube stations only a few minutes walk. Nestled between Selfridges and Grosvenor Square, we are neighbours to Harley Street's Private Medical District.
Opening Times
Monday 10:00 - 18:00
Tuesday 10:00 - 18:00
Wednesday 10:00 - 18:00
Thursday 10:00 - 18:00
Friday 10:00 - 18:00
Saturday Closed
Sunday Closed

Book an Appointment
Please reach out by phone or email and we look forward to welcoming you to the clinic to assist in any medical or aesthetic need you may have.